(Better Health Channel 2011a)
Genetically modified food is getting more and more common these days. When we browse through the fresh produce in the supermarket, we realize that many foods that we consume are genetically modified, more commonly known as GM Food and are

derived from genetic engineering (Better Health Channel 2011a).
(Silentcynic 2009)
So, have anyone of you heard of blood orange?
There is a recent fruit in the market - Blood Orange that is genetically modified.
Historians believe it is a mutated form of the common sweet orange, and its early cultivation can be traced to Southeast Asia, China, the Middle East and Italy ()
.
The most obvious difference between a blood orange and an ordinary orange is the colour of the fruits' flesh.
The flesh is red in colour which is caused by the increase of
anthocyanins present in the fruit.
Anthocyanin is activated through the transciption of
retrotransposons, a genome situated
upstream of the Ruby protein coding sequences (Biology News Net 2012)
.
Anthocyanin is a flavonoi
d that gives the blue, purple and red colour in fruits and vegetables

such as g

rapes and strawberries.

read more on retrotransposon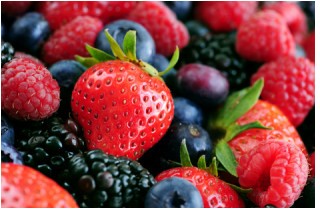 (Immune Health Science 2012)
A
nthocyanins that are richly present in blood oranges are also known to
reduce oxidative stress
and
the risk of cardiovascular
diseases
which is commonly linked to diabetes (Sahelian n.d.;
Nuttall et al. 2002
).
This is shown in a study in 2010 where mice fed with blood orange juice had suppressed weight gain and fat cell growths compared to mice fed with normal orange juice and water (John Innes Centre 2012) .
However, anthocyanin production is very unstable and would only be produced in specific conditions. Commercialized blood oranges are mainly produced in Sicily, Italy
around Mount Etna
where the presence of sun in a cold day or a sunny day with warm nights. This is important as the gene of this red pigmentation, known as Ruby is activated in cold conditions during the ripening process (Butelli et al. cited in
John Innes Centre 2012
).
Researchers are still carrying out experiments to enable this natural-occurring red pigments to be produced in warmer climates by genetically modifying it with another fruit promoter (Martin cited in
John Innes Centre
2012)
. If this succeeds, blood orange would be a common fruit that is widely produced and available to consumers around the nation.
In the future, I would think that fruits such as blood orange might be a solution in overcoming concerns of food shortage or food insecurity in the nation where a fruit consumed would be able to supply nutrient or benefits that were once known to be obtained only through a variety of fruits.
References
Artichoke, U 2012, Decoding Blood Oranges: Discovery of the Ruby Gene, Eat Drink Better, viewed 21 March 2012. .
Better Health Channel 2011a, Genetically modified foods, viewed 11 March 2012, <

www.betterhealth.vic.gov.au

>.
Better Health Channel 2011b, Genetically modified foods-techniques, viewed 11 March 2012, <

www.betterhealth.vic.gov.au

>.
Immune Health Science 2012, Anthocyanins, viewed 25 March 2012, http://www.immunehealthscience.com/anthocyanins.html.
John Innes Centre 2012, New research could make it easier to grow health-promoting blood oranges, viewed 14 March 2012, < http://news.jic.ac.uk/2012/03/blood-oranges/>
Nuttall, SL, Martin, U, Kendall, MJ, Dunne, F 2002, 'Short-term antioxidant supplementation reduces oxidative stress in elderly patients with type 2 diabetes mellitus – a pilot study' , Practical Diabetes Int, vol. 19, no. 7, pp. 199.
Silentcynic 2009, Blood Orange, viewed 14 March 2012, .
Esther Tay
42807450